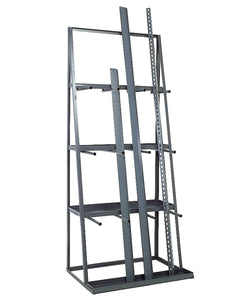 Vertical Stock Rack
$148.50

148.50

Save $148.50
---
Description
Specifications
Reviews
Vertical stock racks offer the following benefits:

Efficient space utilization

: Vertical stock racks maximize storage capacity by utilizing vertical space, allowing you to store more items without expanding horizontally.


Improved accessibility

: Vertical storage systems make it easier to locate and retrieve items quickly, improving workflow efficiency.


Enhanced organization

: Vertical stock racks facilitate better organization through categorization and labeling, streamlining inventory management.


Increased visibility

: Storing items vertically provides better visibility, enabling you to monitor stock levels and identify shortages or excesses more easily.


Safety and ergonomics

: Vertical storage minimizes the risk of accidents and promotes ergonomic practices by keeping items off the floor and reducing strain on workers.

Time and cost savings

: Efficient organization, improved accessibility, and optimized space utilization result in time and cost savings by reducing downtime, increasing productivity, and avoiding the need for additional storage space.

| | |
| --- | --- |
| Title | Default Title |
| SKU | 235-SRV1 |