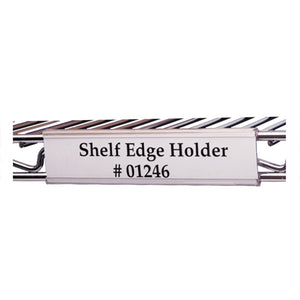 Snap-On Label Holder 25 per Pack
Keep product organized on chrome wire shelving
Flexible holders fit new or existing wire shelving with 1 ¼" face
Includes printer inserts
Comes in pack of 25
Description
Specifications
Reviews
Snap-on label holders identify and mark contents on office or warehouse shelving. Flexible holders fit new or existing wire shelving with 1 ¼" face. Includes LaserJet / inkjet white inserts.
Chrome Wire Shelving snap on label holders
Good idea to label shelves and their contents but when applied to the shelf edge they are loose enough to fall off at the gentlest touch. They move right and left easily, so easily that the shelf contents can become miss-labeled. I may use double sided tape to stick them to the shelf rail.